Tutorial 3 – CO2 Storage site connected to a nearby hydrocarbon field¶
You will learn about :
set up a model using a reservoir geometry and geology given in ECLIPSE format

use calendar dates to define simulation events

set up horizontal wells
What do you need to run this tutorial:
Five input files that can be downloaded using the following links:
ResInsight installed in your local machine
Tutorial sections:
This tutorial describes a CO2 storage problem into a saline aquifer in proximity of a hydrocarbon field. As the two are pressure-connected, the depletion of the hydrocarbon field causes a pressure gradient that drives the CO2 plume migration. The depletion of the hydrocarbon field is modelled using a dummy well producing brine. The storage layer is split in two compartments by a fault, which is crossed by the CO2 plume during the post-injection migration phase.
The target layer extends 3 km x 3 km in the horizontal directions, and has a thickness of about 100 meters.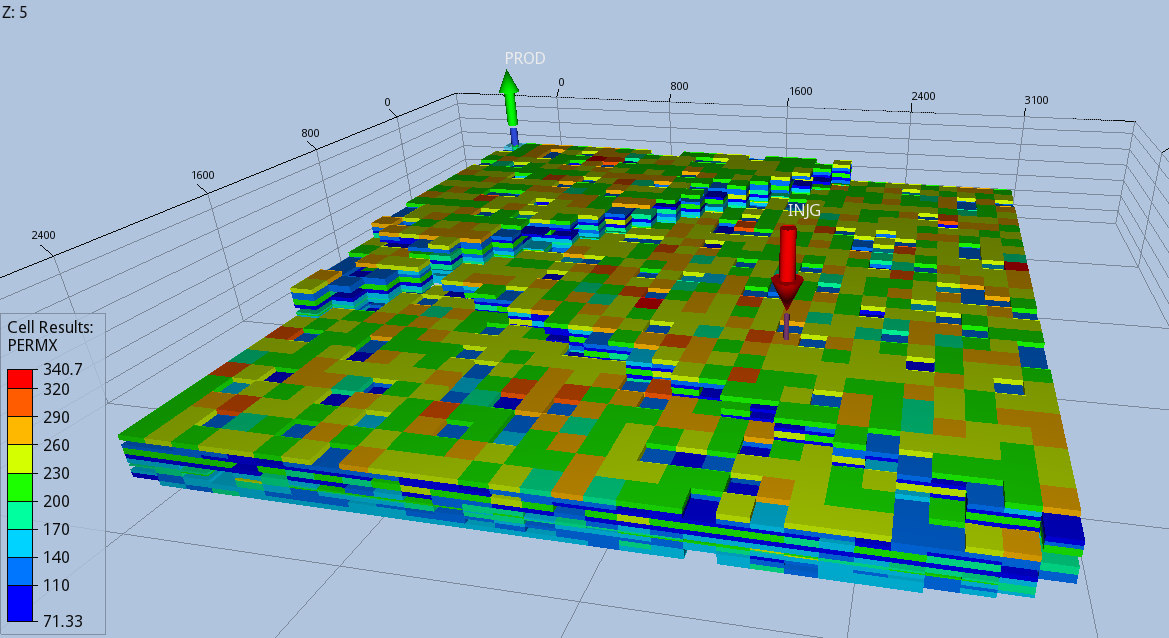 With a text editor open the input deck provided for this tutorial, ccs_3df.in. The explanation below discuss only sections with instructions not covered in Tutorial 1.
Open a terminal window, navigate to the folder where you have downloaded the input files for this tutorial and launch a simulation.
You can use file pft.sh script to run the simulation using the following command:
This will run the case on 4 cores. As the simulation progresses the screen output shows you the physical time progress, the time step size, and at the end of each time step the values of the field gas injection rate and total (fgir, fgit), the field average pressure (fpav), etc.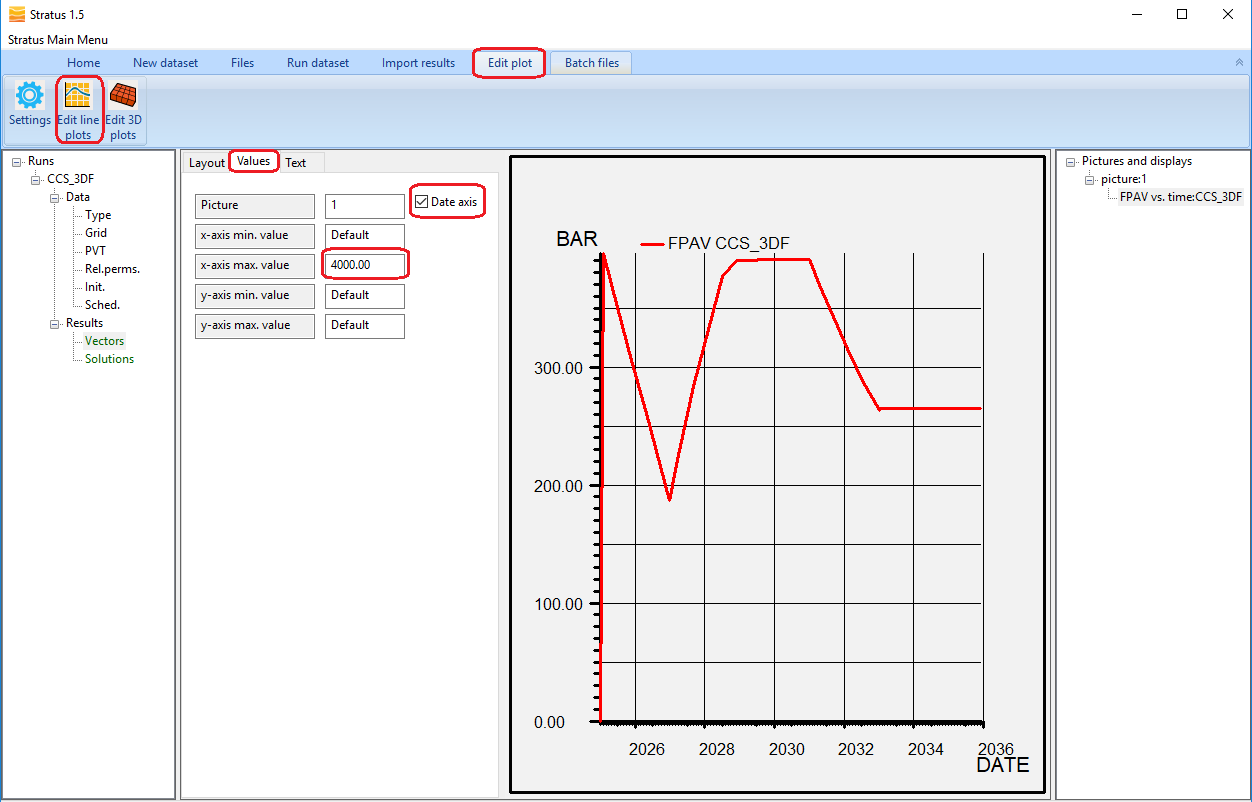 If you want to run the case in the background, and write the screen output on a log file, use the following command:
nohup ./pft.sh DS_3DF.in 4 > CCS_3DF.log &

The screen output will be saved to CCS_3DF.log.
Login into your OGS account.
Upload the input deck CCS_3DF.in, and upload and link the following external files:
ccs_3df.grdecl

ccs_3df_geom.grdecl

ccs_3df_prop.grdecl

co2_dbase.dat
Turn on a small test machine, with maximum duration of 1 hour.
Submit to the test machine with 8 cores.
Once the run is complete, download all the output files into a folder you can access later to analyse the results.
Launch ResInsight, and open the "CCS_3DF.GRID" file. In the dynamic property select Pressure. Then expand "Cell Result" in the left-side menu, and in the bottom left, under "Mapping", "Range Type", select "Min and Max for the Current Time Step".
Then on the top bar select the report date at the start of the injection, 1 JAN 2027:
When the injection starts, the production has already been going for two years, creating a low pressure region around the injector, in a shallower layer already at lower pressure due to hydrostatic pressure.
Now click again on "Cell Result" on the left-side menu, and select gas saturation (SGAS) in the property editor. Select two times to analyse, the end of the injection (1 JAN 2031) and the end of the simulation (1 JAN 2225):